6) Write Longer Content (Most of the Time)
An SEO study by Backlinko concluded that longer content tends to accumulate more backlinks, which can often translate to better rankings and more traffic: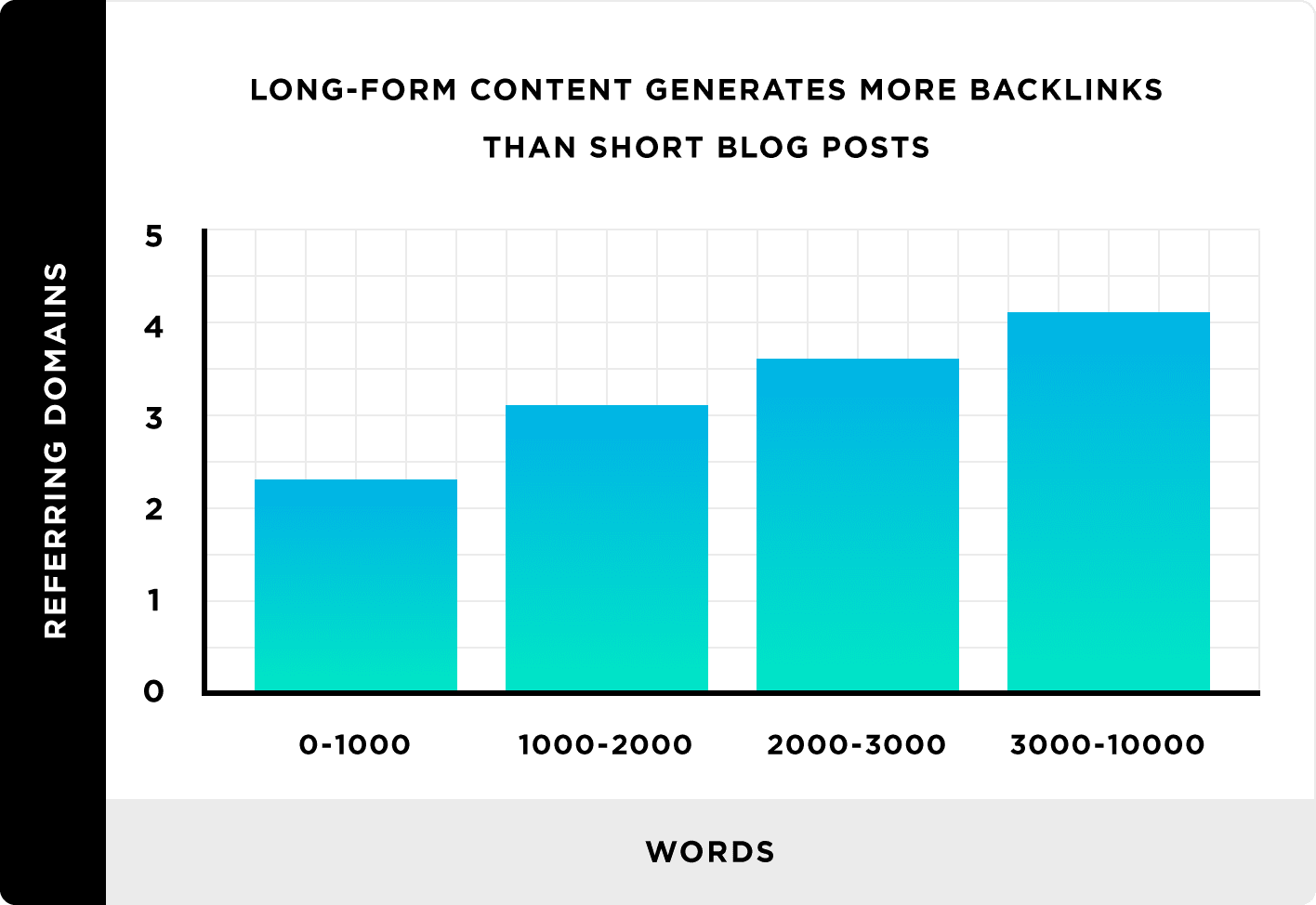 However, writing 2,000+ words for every blog post is not for everyone. It's not only intensive and time-consuming, but it's usually not necessary.
Remember what we said about satisfying user intent? Few search queries are from people looking to read a long blog post. They might only need a few words or sentences to get their answer.
Let's take the keyword "link building tips." People searching for that phrase are likely looking for a comprehensive guide to link-building strategies.
People searching for "link building do's and don'ts," on the other hand, might not be after a detailed guide. A simple bullet-point list may be all they're looking for.
Unfortunately, there's no hack to determine how long your content should be other than good old-fashioned common sense. Ask yourself what information someone would be looking for if they're using a keyword that you're targeting, and start from there.
Don't forget that it is possible to target multiple types of search queries in one post. That comprehensive link-building guide, for example, could always be wrapped up with a bullet-point list of do's and don'ts (just make it as easy as possible for the user to navigate the article by using jump links — like we have in the table of contents at the top of this piece).
But what if you've decided that 2,000+ word posts are a necessity? Here's how you can create long-form content (without the stress):
Refresh Your Old Content
If you're struggling to find the motivation to write a long-form blog post, then why not just expand an existing page from, say, 1,200 words to 2,000?
Existing content already has authority and (in some cases) an established readership. Rather than writing from scratch, it can be much simpler to boost an existing post's performance in the search results by refreshing it with updated information and extra content.
So how do you choose which content to update?
The best candidates for content refreshes are time-sensitive content (in other words, subjects like SEO that are constantly evolving), as well as posts that are getting some organic traffic, but have the potential to get much more.
You can find out how much traffic your content is getting in the Landing Pages section of Google Analytics. Just go to Behavior > Site Content > Landing Pages:

Once there, remember to change the segment you're viewing to "Organic Traffic," and filter the results using your search bar. For example, if you want to view traffic to content that lives in the /blog subfolder of your site, you just need to put /blog in the search bar.
Dive Deeper:
* What Is Content Decay and How It Affects Your SEO
* Do You Really Need to Write 1,890-Word Blog Posts to Rank on Page 1?
* Quality Over Quantity: The Balance of Keyword Usage
WEBSITE DESIGN SERVICES: Baltimore, MD 21201 Leave your website to the experts Your business deserves a great website, but you don't have to build it yourself. Stand out online in less time with a custom website designed by professionals. Expert website design and content Quality control from start to finish Timely completion and follow-up
Posted : 05/09/2021 7:32 am